An absence of two to three weeks for Messi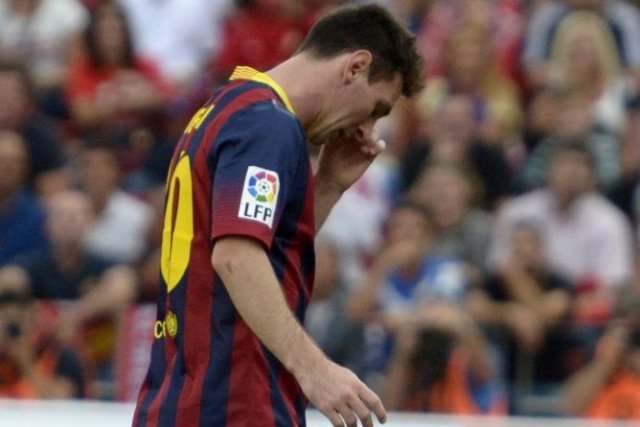 The Argentine striker Lionel Messi of FC Barcelona, Almeria out injured Saturday when the seventh day of the Spanish Championship, suffered a muscle "small tear" in the thigh and will be out for two to three weeks, said Sunday Catalan club.
The four Ballon d'Or will be unavailable to face Celtic in the Champions League Tuesday and Valladolid next weekend in La Liga. His presence in the Argentina squad to face Peru and Uruguay on 11 and 15 October also seems challenged.
"The tests conducted this morning confirmed a small tear fibrillar femoral biceps of his right leg. The downtime is approximately two to three weeks, "wrote Barcelona in a statement.
Messi scored the first goal Saturday night Catalan a curling shot from 20 meters (21 '), but, shaking his head to indicate that he could not continue, he was replaced by Xavi Hernandez in the 29th minute. The Catalans have won 2-0.
"For Leo (Messi) apparently there is a small muscle in the right concern that occurred when his leg goal," explained coach Saturday night Barcelona "Tata" Martino.
Barça often putting the talent and speed dribbling the Argentine to unlock games, his absence will surely worry again in Catalonia.
The Catalan press was especially moved this summer that the 26-year-old has played very few games in their entirety in the past month.
In August, the current top scorer in La Liga (8 goals) had suffered a quadriceps muscle strain in his left leg and a contusion on the same leg, which earned him especially miss the win in Malaga during the second day of Liga.
*********
Javier Mascherano button for two weeks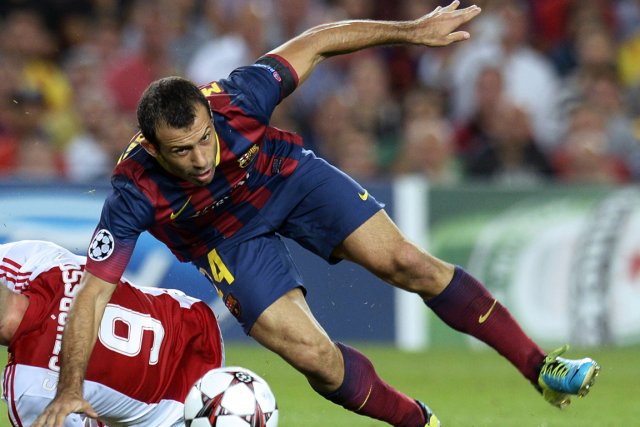 FC Barcelona announced Wednesday that defender Javier Mascherano would be absent for two weeks due to injury and probably miss the match of the Champions League against Celtic.
The Catalan club said the Argentine player had passed a medical examination confirmed Wednesday that he was wounded in the hamstrings rights.
The injury occurred in the second minute of Tuesday's game against Real Sociedad at the Nou Camp when Sergio Busquets accidentally kicked his teammate just above the knee.
The Barcelona coach, Gerardo Martino, must also be without the services of his captain, Carles Puyol, who is recovering from an operation, and its left rear Jordi Alba.
FC Barcelona will face rival Group H, Celtic, Tuesday and also has games scheduled against the Almeria and Real Valladolid.