UFC 165 domination Carmont, victory Jones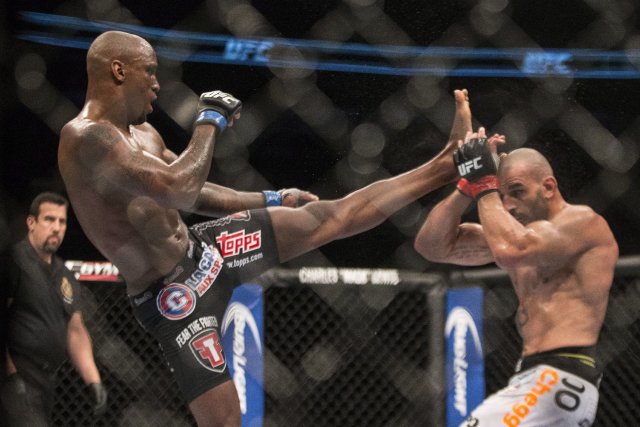 Francis Carmont gives a kick to the American Costa Philippou.
After two lackluster fights , Francis Carmont absolutely had to rebuild a name in the UFC. Underdog has succeeded against a formidable opponent on Saturday night at UFC 165 in Toronto.
Montreal's French-born completely dominated Greek Costa Philippou ( 12-3) . Carmont ( 22-7 ) scored three projections , a feat against a recognized for its ability to prevent the opponent.
At the end of three rounds , the judges awarded a unanimous Carmont victory ( 30-27 , 30-27 , 30-26 ) , who had spent 12 minutes of the fight lasted 15 position mounted on a visibly Philippou frustrated.
Francis Carmont left France for Quebec there three years. He trains at Tristar Gym in Montreal under the command of coach Firas Zahabi and is protected by Georges St-Pierre.
Three other Montrealers fought at the Air Canada Center. Mike Ricci (8-4 ) lost by split against Myles Jury ( 13-0 ) decision. Ivan Menjivar ( 25-11 ) also lost against Wilson Reis ( 17-4 ) by unanimous decision .
The native of Halifax John Makdessi (12-2 ) , who also trains Tristar , has meanwhile won a speedy victory against Brazilian Renee Forte ( 8:03 ) . It took only 2 minutes to get the KO his opponent in the first round . The lightweight ( 155 pounds ) now has three straight wins in the UFC.
Jon Jones is pushed to the limit , but wins
A bloody Jon Jones successfully defended his title in the heavyweight after being pushed to the limit by Alexander Gustafsson in a dramatic five-round fight that was decided on points Saturday night at UFC 165.
The judges gave an advantage of 48-47 , 48-47 , 49-46 at Jones ( 19-1) . This is the tightest champion victory.
Despite the loss, the Swedish aspiring offered a performance that will long be remembered . He had the best start in combat before having to hang on in the fourth and fifth rounds.
Gustafsson ( 15-2 ) showed that Jones is human , cutting and spraying the ground for the first time since his debut in UFC. And as promised , the Swede showed he had very quick hands .
It was not until the end of the fourth round as Jones began to cause damage , setting the stage for a dramatic final round.
Both men were bleeding. Jones forced Gustafsson ground , but the Swedes found the energy to bring the fight upright. Jones gave everything , mixing well nudges with kicks.
**********
UFC: a Montrealer mission to Toronto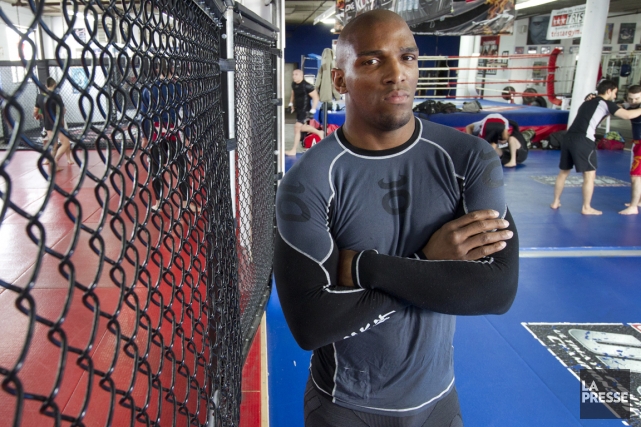 The French-born Francis Carmont Montreal is on a mission . After starting bittersweet in the UFC , he hopes to surprise tomorrow night in Toronto and establish itself as a leader in the middleweight division (185 pounds) of the prestigious organization .
This friend and protégé of Georges St- Pierre is neglected in the duel that opposes the hard hitter Greek Costas Philippou (12 wins and two defeats ) . The native of Cyprus has not lost since 2011 . He has won his last four fights .
For its part, Carmont (21 wins 7 losses ) had a promising debut in the UFC with three convincing victories . But his two most recent outings were complicated : even if he has won narrowly , Carmont has been accused of such a boring style .
"With my coaches , we looked at what was wrong . We watched a lot , "admits Carmont , who left France for Quebec there three years now , hoping to propel his career in the UFC.
"I noticed that sometimes I get asked a lot of questions during the fight. Same as before the fight, I think the fear of disappointing , for example, he said. I have a mind to drive the base. But I lost my concentration because of these issues. I watched my fights and I said, "But you ask yourself why so many questions? " I just have to do what I can do and things will go well . "
This challenge comes after two tough outings for Carmont . When returning to the octagon of St. Peter in November 2012 , Carmont faced Tom Lawlor at the Bell Centre. Some observers octroyaient victory at Lawlor, but Carmont won by split decision. His fight last April against the talented Lorenz Larkin was also very tight.
Carmont think the psychological work he has done since it will do better on Saturday night against the Greek part of UFC 165. "I think I have what it takes to beat Philippou and demonstrate that things would not have been improved. "
Philippou is expected to win nearly two against one. The slugger has managed half of his victories before the deadline and with his fists. "The key to victory , it will remain very focused and energized because my opponent is a strong guy with fists ," says Montreal's renowned for its excellent technical and physical skills .
"I think it's an opponent that deserves its place in the top five in the category. This is a guy who is mentally tough , we have seen in his fights , said Carmont . It 's always ready to talk with his fists. He weightlifting too, so it must have good physical strength . It really is a tough opponent . "
Although Carmont considers to be the best soil Philippou , it does not mean to play the fight standing .
Georges St- Pierre , trainer Firas Zahabi and his little brother will be in his corner in Toronto. There was no question for the fighter to address this important test without his bodyguards . " I approach the most important fight of my career and I will not let Philippou take my rightful place ," says the fighter mission.
*************


*********